MMK 2021: Let's go!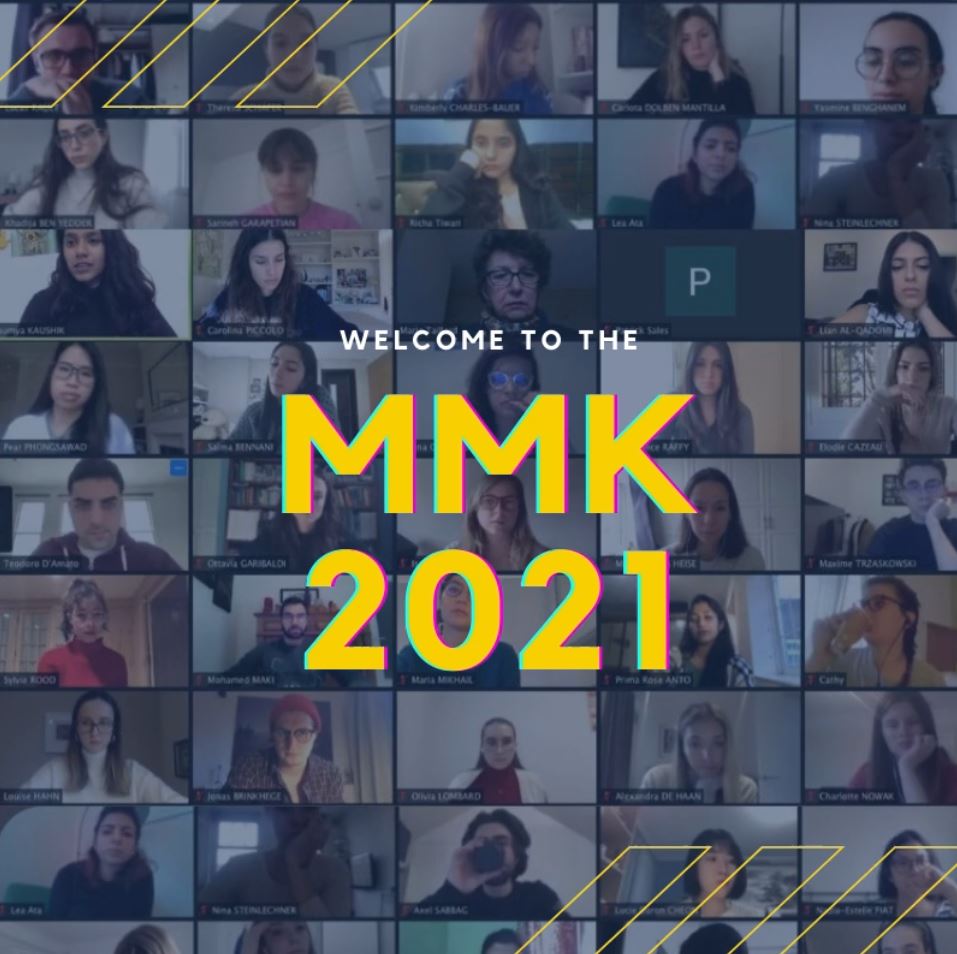 Let's start with a little throwback. Last year when the Covid-19 crisis hit the world, all the stakeholders involved in the MSc Marketing & Creativity took very innovative measures to ensure that the MMK experience would keep up with its reputation. 
The sense of community is at the heart of this program. From Corporate Partners to students, co-creation and creativity reached a whole new level throughout the year (read more here or here). Having built the strong foundations of our new normal, we couldn't be more excited to welcome a new cohort! On January 11th, 72 new students connected on Zoom to officially become MMKers and meet their new teammates in this creative adventure. 
Turning a new class into a collaborative learning community has always been the focus of the MMK. As students develop their own blend of creativity and market relevance, they benefit greatly from their membership of a community of young professionals coming from over 30 countries and with a broad range of backgrounds. Their first degrees range from architecture to communications, digital journalism, engineering, fashion and even psychology. Together they will evolve into the creative marketers of tomorrow. We can't wait to discover how each and every one of them will contribute to the community! In the meantime, we'll take you through their first week of class. Fasten your seat belt and enjoy the ride!
A WhatsApp group has been set up for the class, so it's time to meet everyone! What better way to connect than sharing a photograph of your neighborhood? Students got talent! 
Stretch your brain, we're starting
The day hasn't started the same way for everyone from Bogota to Seoul, from Martinique to Mumbai, and from Abidjan to Amsterdam. Time differences are real but the enthusiasm remains the same! The Introduction to Creativity Marketing taught by Prof. Marie Taillard has begun. The consumer journey surely looks familiar to many of you!
First up, team presentations
MMK = teamwork! Teams are set up by the Program Director to ensure a thorough mix of nationalities, backgrounds and more. "Step out of your comfort zone" is definitely the program mantra. At the end of the week, as teams present their collective work, the magic of collective creative work is already fully on display!
The students talk about the experience better than anyone else
"MMK 2021 definitely had the most unusual start as we were supposed to have live classes on campus. But, ESCP professors and staff left no stone unturned to make it the most wholesome and interactive experience. Because of which, I'm really looking forward to the year ahead and also, this experience is preparing me to amalgamate the best practices of the digital and non-digital world in my future career." Aakanksha, Indian student
"2020 taught me not to take anything for granted, to accept uncertainty and to adapt to last minute changes. While I was hoping to start the year on campus in London, and be able to meet teachers and other students in person, I wasn't too surprised when ESCP took the start of the course online following the lockdown. I was apprehending the start of the year online, but I am positively surprised by how engaging and interactive the course is. We have students from such diverse backgrounds, each bringing a fresh point of view to class discussions. I feel very confident that the positive spirit will remain strong, and look forward to the opening of the campus, and to be finally able to meet everyone in person." Mohamed MAKI, French Lebanese student
It's been a very promising first week and we can't wait to share more of the journey ahead for this new class! In the meantime, we will also have some more content coming from the 2020 intake of students who are now doing their internships. So stay tuned! 
Welcome to the #MMKFamily !