L'Oréal Big Picture 2020: Reimagined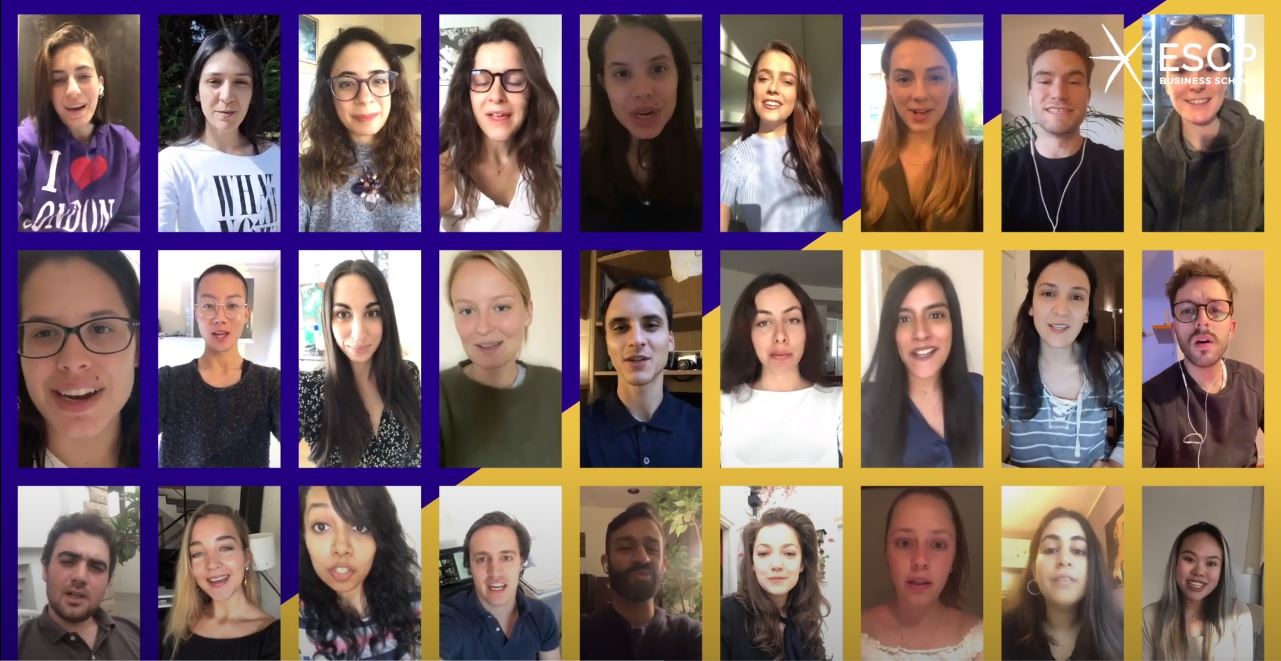 A third of the planet being locked down forced faculty from ESCP Business School and their partners at L'Oréal to find an alternative way to run L'Oréal Big Picture 2020, the annual Paris-based student challenge proposed by the beauty giant to MSc students at ESCP. 
As creative marketers, they saw in this situation an opportunity to reimagine the entire competition to the online world. 55 students from the MSc in Marketing & Creativity and the MSc in Digital Transformation Management & Leadership successfully participated in this innovative edition. If you've ever wondered what it takes to work remotely with team members spread across the world, and to deliver highly creative solutions in five days, you are in the right place! To find out more about the challenge and topic, click here.
Tell me more! What's it like for students on the project?
Even reimagined, Big Picture remains highly creative and collaborative. Student teams approached the brief with the analytical mindset they have been taught. The first step was to break down the problem and clearly define each of its dimensions. Teams imagined what might be the new normal in 2025, what consumers might be looking for, and what needs they might try to fulfill; in other words, they identified a solution space. 
Once they established those solid foundations, they brainstormed and developed solutions and the business models that would make them concrete and viable. To do so, L'Oréal provided real consumer search data on which they could build. L'Oreal managers spent time with each group discussing their proposal, providing feedback and advice, and pushing them towards better, more practical solutions. Each team produced a one-minute video, bringing their recommendations to life through storytelling and enabling the jury to envision their solution and the value for the consumer.
Don't just take our word for it! Here's a first-hand account from participants:
What are the insights for Creative Marketers?
Beyond the obvious acceleration of digitalisation and its impact on how products and services are consumed, the project highlighted the huge opportunities and challenges associated with creating innovative online beauty experiences. It served as a veritable crash course in omnichannel strategies. From defining what beauty really means, to bridging the "touch and feel" gap of buying beauty products online, guiding consumers through the ocean of information at their fingertips, and optimising the buying process, students analysed every aspect of the future consumer journey. The solutions presented by the competing teams took advantage of data to provide personalisation, and leveraged innovative technologies such as facial recognition or VR, faithfully reflecting the current challenges faced by L'Oréal. 
The winning project was deeply anchored in one of the main pillars of Creativity Marketing, specifically that considerable value can be created by imagining technologically-advanced solutions that can be blended with old-school, human-powered experience. 
Finally, many of the takeaways for students, professors and L'Oreal executives were around the power of digital collaboration.
So, what did we really learn about digital collaboration in these five days?
Having observed the nine teams throughout the week and gathered their feedback about what it takes to work remotely, here are some tips to make digital collaboration successful:
Set up a working space at home.

It's important to differentiate your space to chill from the space in which you work. Create a working zone with a comfortable set up that will help you to focus on your work and be more efficient.
Reinvent habits and customs

. A simple obstacle such as not being able to put your hand up to show you want to participate in the discussion can become a source of frustration. Set the basic rules of the game with your teammates before you start to make sure everyone is on the same page. Share a working document so everyone can see the work as it's being done. Some teams drew mind maps and used other visual props that helped break the distance barrier. Take real breaks, and put time aside to have fun as a team.
Communicate

. Communication is at the heart of successful teamwork in real life and this is even truer when working remotely. Seeing all your teammates through a screen makes body language harder to detect and can result in a sense of emotional distance. Remember to make time for each team member to express their opinion.
Share your purpose

. Developing a clear sense of shared purpose is even more critical online. Make sure from the very beginning that you agree on what everyone's purpose is in contributing to the project. This makes it easier to get over disagreements and possible issues with how the work is distributed among team members.
Find a leader

. Collaborating doesn't mean lack of leadership. Coaches reported that winning teams were headed up by an effective leader who provided direction and focus throughout the collaborative process.
Take advantage of time zones

. During the challenge, deadlines were set on Paris time. Some teams reached major decisions all together, and allocated individual tasks such as video editing to team members according to their local time zones, in effect achieving a 24-hour work process. When French team members went to bed, Chinese colleagues edited. Efficiency is key! 
A step further
This 2020 edition marked a turning point for Big Picture. As the unprecedented circumstances required a whole new format, the level of involvement of each stakeholder has been remarkable. 
Big Picture organisers at L'Oréal and ESCP Business School were determined to turn the lockdown conditions into an opportunity to take the project and their partnership to a greater level of collaboration and innovation. Students were asked to record their daily experience to create a video diary using innovative software, with great success. In addition to showcasing the student experience, it also served as a learning tool. Not only did students have a chance to reflect on the colossal amount of work they achieved each day, but they also got to practice a key professional skill – promoting their work and their achievements.
Jury members were unanimous: Big Picture 2020 was the most successful edition to date.  Student teams across the board showed impressive skills in spite of the challenging working conditions. They did an outstanding job at uncovering consumer pain points and developing creative solutions the "L'Oréal way". For the first time ever, the jury invited the winning team to come to L'Oréal's Paris campus and work with the Digital Services Factory team on the development of a new service: a priceless opportunity for behind the scenes glimpses of this leading beauty company and to contribute to an innovative offer. Once again, congratulations to all participants, and see you all next year for an exciting new challenge!