ESCP London Campus hosts 14th Annual Careers Fair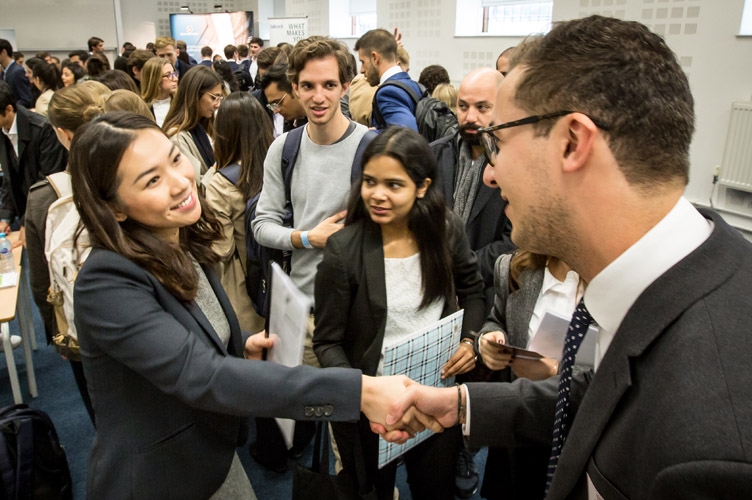 400 students from five campuses attended the London Campus' flagship careers event in October 2019.
Participants took part in speed-interview sessions with top employers, and had the opportunity to meet and network with international recruiters based in the UK and Europe.
Over 200 students attended the speed interviews moderated by 20 representatives from different companies. These were followed by a presentation on careers at the global financial services firm UBS, delivered by the UBS Talent Recruitment team, which drew 120 ambitious students.
The Careers Fair exhibition took place in the afternoon, welcoming 17 guest companies from industries such as Banking, Private Equity, Consultancy, Marketing and Digital Marketing, Media, Tech, Fintech and Aviation. These included Bloomberg, Babcock International, ING, NHS Property Services, Houlihan Lokey, SKY, Splunk, S&P Global, Accuracy, Jellysmack, StepStone, and more.
The Fair was a great opportunity for ESCP students to get to know and compare a variety of industries, and to speak to recruiters face to face in a welcoming environment. The speed interviews allowed companies to get a glimpse of the high calibre of the ESCP cohort, whilst for the  students it was an invaluable opportunity to receive first-hand feedback on their interview skills from potential employers.
Student feedback on the speed interview sessions included: "It was short but very interesting! It's always good to practice and receive feedback, and I know this will help me for my future interviews!"
Read more here.