L'Oréal Big Picture 2021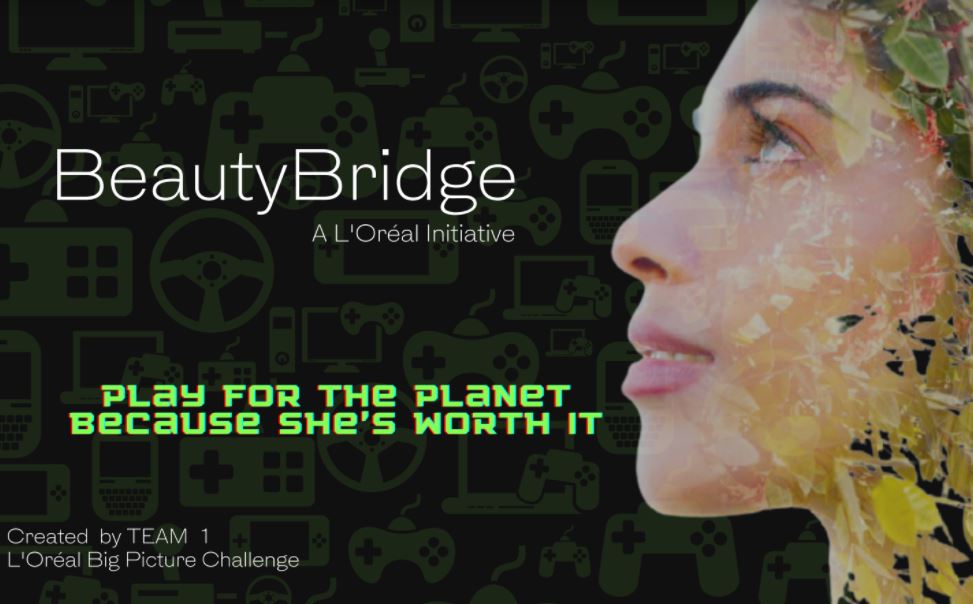 The L'Oréal Big Picture is one of the highlights of the year  for many students on the MSc in Digital Transformation and the MSc in Marketing & Creativity. Created by L'Oréal and ESCP Business School, it's a week-long business game where 60 students work on a real life brief. They are guided by industry professionals and their professors to produce an innovative solution in the form of a 1 minute long video.
A winning concept for all
10 teams worked on what will be the "beauty-in-gaming" experience in 2025. 
Our new partner agency, the award-winning 180 Amsterdam trained them on how to approach the brief. Given that L'Oréal leverages its internal resources by working with the most innovative and ambitious agencies worldwide, 180 Amsterdam was the perfect fit. Plus there are several reasons why it is beneficial for the agency to take part into business games like the Big Picture. The Managing Partner of 180 Content, Laurent François elaborated:
"A creative agency like 180 needs to constantly bring fresh perspectives to our clients. By coaching talented teams, we have a double interest: get a true pulse on what matters the most towards a new generation of decision-makers, and capture thought-provoking ideas applied to one of the greatest organizations, L'Oréal. The conditions and brief are very close to real-life situations: it's no longer siloed but more and more integrated solutions that we need to provide. Innovative teams need to work with go-to-market structures, while taking into consideration what communities expect. This forces students to be customer-centric, and call all the relevant resources to deliver, even if it also means making tough choices. Creativity marketing at its best!"
Shaping today the talents of tomorrow
L'Oréal has been on board with the Big Picture for the past 7 years. If the tremendous amount of benefits for the students with such a partnership are now clear, this year also confirmed how much it means for L'Oréal.
Stefanie Messner – Talent Acquisition Director
"At L'Oréal, we have always placed great value in the next generation. We know they have a daring entrepreneurial mindset, are prepared to test and learn, fail fast and come back stronger.  They are hardworking individuals who care deeply about others and the environment and they are ready to make change happen – values that we share at L'Oréal. Working with students from the MMK enables us to give back, to provide guidance to their development and to support them in identifying their passion and career path, making the change they want to see in the world. And last but not least, it gives us the opportunity to be challenged and inspired by their ways of thinking."
Margaux Velty – Campus manager at L'Oréal for ESCP
"As a Campus Manager I work with ESCP to develop engaging and inspiring seminars, business cases and company presentations, enabling students to interact, learn, be challenged and in turn challenge us. This event allows us to share, collaborate and work with the students on challenges that the cosmetic industry is facing. With 15 L'Oréal employees coaching and interacting with the students across a week of activities, it is a significant event in our agenda. Not only do the students gain an authentic understanding of our start-up mode way of working and innovation playground, but our coaches also support them in their idea development, discovering and encouraging their potential."
Vincent Arcin – Global Digital Services Factory
"It is very refreshing for us. The students bring their creative and entrepreneurial mindsets, new ideas. It's a different twist to our daily challenges. And finally for us, it is also a great way to spot future talents who might be joining us!"
A glimpse of what is at stake in the gaming industry 
In 2020, we published an article explaining how the gaming and fashion sphere started to collaborate with each other here. What is at stake for the beauty industry? This is the question our students tried to answer during this edition of Big Picture. At the beginning of the week, L'Oréal introduced the gaming industry to the different teams, explaining that it reaches nearly 3 billion players globally, equally divided between men and women. As we are building the "new normal" when we think of the future of social and the future of e-commerce, gaming appears as a privileged way to engage with customers. 
The winning team introduces their project
"Our vision for the beauty experience in gaming a.k.a. L'Oreal BeautyBridge Initiative is to create a bridge between the virtual and physical world and drive consumers to take real sustainable actions. We linked the cosmetics brand Maybelline with a platform-agnostic metaverse consisting of user-generated hyper-casual games targeted at GenZ players to create: Maybel's Green, a virtual experience store. This store can be optimized and scaled to all L'Oreal brands with different gaming metaverses across platforms, taking this sustainability initiative forward."
Check out the full video here. 
Congratulations again to:
Varun Behl (India – MDT programme), Lian Al-Qadomi (Palestine/Canada – MMK programme), Daria Borshcheva (Russia – MMK programme), Anne-Louise Bricout (France – MMK programme), Kimberly Charles-Bauer (France – MMK programme) and Daron (Lucie) Cheon (South Korea – MMK programme)
and to all participants!