Field Notes in Creative Services with Mark Fleming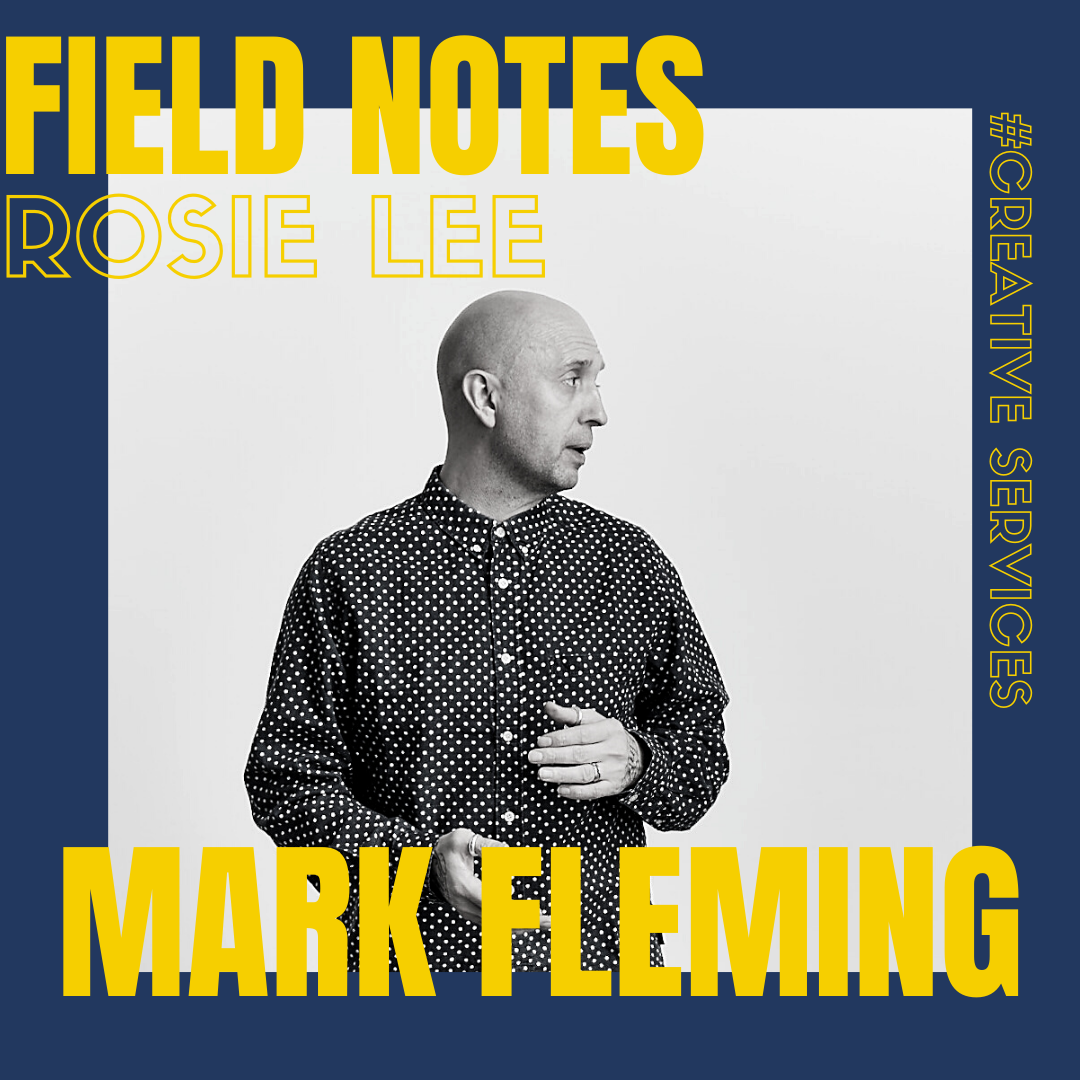 Field Notes is a student initiative aiming to expose the realities and challenges of working within a variety of marketing disciplines. Insights provided by guest speakers help to bridge students' academic motivations towards their professional journeys in the near future. Following the series, we are happy to introduce Mark Fleming, Founder and Global Creative Director of Rosie Lee and Against Time.
Can you please tell us more about your background?
Years ago, I went to London and tried to get into the creative business; it didn't work. I was working in pubs and bars, so I ended up going back home before coming back again. I managed to get a job, the only "normal" job I ever had, at a company called The Clinic. I was working on different things, and headed up the Virgin account they held with a good friend of mine, Ash. Virgin was a multi-million pound account, but my boss at that time was very casual and would let us do our thing as long as the work was done. I heard of a project coming to redesign LEGO Media and, because I had free time, I designed a logo even though I was not on the team. I presented this logo, it was a hit, and that's how I started working in a new team. In a nutshell, from that I got introduced to new people, and this new team gave me the idea to leave and start my own agency.
I started a small studio called Happy Tomorrow and we were there for two years. I learned a lot and I'm very proud of the work we did, mostly branding. As designers we were doing really cool things. Genuinely, the take out was that even though we did very good work, when we went to people to show it the reaction would be: "Very good work, we'll give you a call when this type of work comes in". The reality was that this type of work never came in – we were too niche, too specialist. 
Unfortunately that business ended; but the beauty is that the reason Rosie Lee succeeded later is because that first business failed. A lot of mistakes happened and lessons were learned. Failure is the best teacher. 
After Happy Tomorrow I was trying to make up my mind what I wanted to do. I went to work at Exposure, a marketing company where I learned about marketing, press relations, the other aspect that I'm not too keen on. And even though I didn't like that, it was necessary. After leaving Exposure, I started Rosie Lee. Our first client was Andrew Weatherall, a DJ and producer. Our second project was for Nike, and from there it all took off. 
Even though you didn't like working at that marketing firm, you said it was necessary. Did it help you to find some balance after doing niche work and become more mainstream?
Yes. Niche sometimes is ahead of its time. It's an amazing way to work, but genuinely it's a balance between being an artist and being a commercial designer. Artists are super pure, it's hard for them to compromise; but then do they also find happiness and success? Probably not, it's very hard. Being a commercial designer is a bit of both. I think we were very lucky in the way that we specialised in commercial integrity, two things that don't exist very well together. We worked for people at Nike, Jordan Brand, Diageo, Marc Jacobs, Beats, Samsung, and Uniqlo – brands that are some of the biggest commercial entities in the world, but then equally you have to have integrity as well. You have to have good ideas, and be really cutting edge, but you also have to sell and promote something. It's a tricky balance that we reached. 
Do you think creativity needs boundaries? 
Yes, the more the better. It needs barriers and walls so you can overcome them. Otherwise, how do you know if you really flexed your muscle? Ultimately, it's like a problem, it's a crossroad. If you give me a brief and tell me you have one day, that's where I know I'll have to really focus. I might give you what you asked for, but I might show you something else so we can discuss it. If you ask for blue and I only give you red you'll probably won't understand and be frustrated. But if I give you blue and say, "actually this additional red idea talks about this and that" and discuss the concept together, we might realise that the creative compromise is purple. 
Are purely technical skills a requirement to work in a creative agency? 
I'm conflicted with this, because just having a laptop doesn't make you a designer. But you don't have to have a qualification to be a designer. I know a few designers, and a lot of photographers and illustrators who never went to college, but they are really good at what they do. It's a funny thing the way Apple and Adobe tell you that you can be creative. Obviously everyone can be creative, but can everyone make a career from being creative? It's something else. 
Sometimes you can train to be a master at one thing and then the technology changes and you become redundant. Today, you have to be a sort of "multispecialist". Some of the young creatives we hire can do moving image, graphic design and photography. Now, arguably are they specialists? No, but they know enough to do a little bit of everything. At university, you might be introduced to the understanding of balance and form; most things you're probably taught are how to design posters, magazines, books, etc. And even though those things don't really exist anymore, there are disciplines within that that you can use. The core ingredient of a magazine is layout, composition, legibility, and those fundamentals can be moved into how you'll design a logo, or how you'll design a store. So I think there are fundamentals that you can learn in core graphic design that can be applied to many things. 
Education is brilliant, but if there's something you don't like about it, change it. If you feel something is missing in the curriculum you're following, take additional courses. Remember it's only one side of the coin. You need to go out and live your life, be quirky, and be interesting. Bring your experiences to your career so you're a well rounded individual, not just a technician. You're a technician with experiences of life. 
You work with a lot of big brands who are known for having a very involved community, and this is even more tangible when they do physical activations. The current situation is clearly threatening those, how do you perceive the future of it?
Community doesn't have to be a physical thing, it can be a digital thing. Of course there's a lot of challenges now, but for many creatives it's a problem that needs to be solved. Some solve it quickly, some don't and fail. Equally, there are many projects that we did at the beginning of this that were not understood and are now accepted. We wanted to create virtual galeries and people didn't understand that you could have creative experience via Zoom. Now people understand that you can, and that the concept of community is there in a different form. 
Personally, I love digital – but it's not everything. We are more connected than ever before but how come we sometimes feel alone? The future taught us that digital isn't perfect. For instance Zoom is amazing, but how come I'm tired from just being on Zoom calls? So we learned that maybe we have to do 50% on Zoom and 50% in person. Same with Amazon: it's really good, but it's killing your high street. I think we've come from one extreme to the other. Hopefully, at the end of this we'll realise that somewhere in the middle is best. 
Market speed is already quite insane. Do you think the hyper digitalisation we're heading towards will make it worse?
I think that like every trend, the pendulum always swings back. I know a lot of people who are closing businesses to focus more on mobile business; but equally, I know a lot of digital-led brands that are seeking to become physical. If you're a digital-first brand like Casper Mattresses who have succeeded, they need to have physical stores. Even Amazon is opening physical stores. So you clearly see this trend where one is migrating to the other, because simply having multiple stores around America doesn't make sense. Maybe have 10 flagship stores, and have a strong ecosystem around it by also having a really good digital presence and fulfillment warehouse. Same with digital: it's amazing, but I don't feel connected. I can just click over and over again, it's not an emotional thing. As much as we are going faster, I'm seeing a lot of people thinking, "no, I want to walk, I want a say in this". 
I know a lot of people now that you won't find on Instagram. They are the "interesting people" now. Who's not on digital platforms? They make me wonder about what they are doing and creating.