Innovating Virtually: The 2020 ESCP Entrepreneurship Festival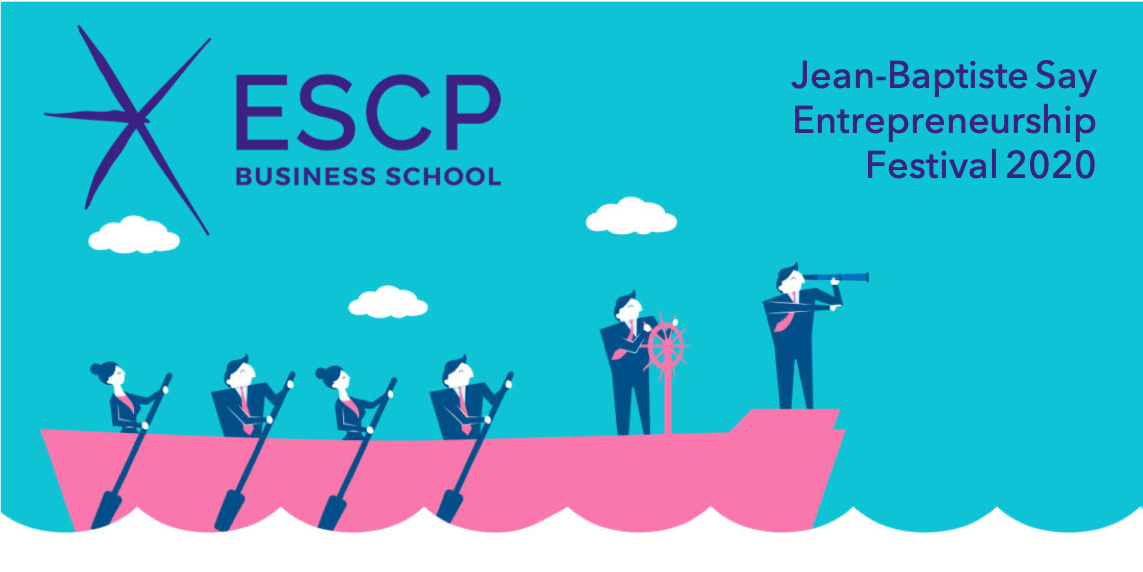 2020 marked the 8th year of the Jean-Baptiste Say Entrepreneurship Festival for ESCP, but the event on 26th May was the first time it ran entirely virtually. Despite all the ongoing challenges caused bt Covid-19, 15 teams of students from the MSc in Marketing & Creativity (MMK), MSc in Marketing & Digital Media (MDM) and the MBA in International Management pulled together and showed remarkable innovation. 
Teams were given four weeks to come up with a business solution, build a value proposition, create a website and video, test demand, design a Minimum Viable Product, experiment, and present their idea. At a regular ESCP Entrepreneurship Festival, student teams host a stand at an on-campus fair, handing out promotional materials and explaining their business to guests and fellow students. But how could this operate virtually? Well, teams organised two-hour "virtual stands" via Zoom, using different functionalities such as breakout rooms, virtual branded backgrounds, step-by-step QR code journeys, and more. 
Almost 600 people registered to attend.. After visiting the stands, attendees were asked to vote on each idea, identifying themselves as a customer, industry expert or investor. They were asked to highlight anything they'd change about the idea, what was most unique about it, and rate it on a scale of 1-10 of how likely they were to recommend the idea to a friend or colleague. 
Once the two hours were up, each team had to pitch their idea in under four minutes to an online audience of over 300 people, with three additional minutes for questions. After all 15 teams had presented, a panel of 17 judges took some time to deliberate, compile their votes from the virtual stands, and decide on four winners: one from each participating Master programme, and an overall winner. 
The overall winner was Hobbiz, a platform app connecting consumers with creators who have a hobby that they want to turn into a business. The app would give consumers access to top quality, locally-made products, while supporting the small businesses of local creators. Ciara, Kanika, Neïla, Mariela and Giulio, the team behind Hobbiz and students on the MSc in Marketing & Creativity programme, found the experience  extremely rewarding:  "You get to see your idea come to life more and more each day." 
The MMK prize went to Kidpsace, an online learning platform that gives parents a break while kids acquire different skills in a fun and exciting way. Its founders, Isabella, Aasit, Pam, Chiedozie and Leonie knew they wanted to tackle a real, current problem and found it "gratifying to work on a university project with the potential of becoming a real business".  
Another MMK-led idea, Amla Club, is a platform that connects users with personal trainers. For their virtual stand, Vasiliki, Miguel, Alexandra, Mirjana and Stephanie used unique QR codes that attendees could scan to be guided through a series of demos, videos and brochures on Amla Club.
Despite the additional challenges of a constrained time frame (the challenge is usually spread across eight weeks, rather than the four weeks available in 2020) and working entirely virtually, the standard of projects was excellent. 
ESCP's Professor of Entrepreneurship Davide Sola said: "Entrepreneurial spirit, resilience, adaptability and great creativity were all on show this year. Teams showed how entrepreneurial thinking and problem solving can be applied to the 'new normal' that will emerge from the pandemic, building customer-centric sustainable value propositions.

"As co-lead of the course, I could not be prouder of the outcomes of these projects and I wish that some of them could become reality."
Christian Linder,  Associate Professor of the module, was delighted at the "level of creativity and energy", especially given the "unprecedented circumstances of online delivery and the fact that participants cooperated in teams from all over the world". He was impressed by the students' output and felt that "we have seen truly brilliant start-ups".
The level of effort and dedication required to simply validate a business opportunity is immense; it's common knowledge that the failure rate of start-ups is extremely high. But this can predominantly be attributed to commercial failure, further reinforcing the paramount necessity to understand your market inside and out before major investments should be made. The knowledge and both theoretical and practical skills learned from this experience will surely aid any future entrepreneurs who took part in improving their ability to reflect and question their own project, and to make it attractive and relevant for each stakeholder.
Ciara is a MSc in Marketing & Creativity student. Feeling inspired by her blog? To follow in her footsteps, check out ESCP Business School and its Marketing & Creativity programmes:
MSc in Marketing & Creativity
Creative London Summer Course