After Big Picture Win, ESCP Students Team Move Closer to Product Launch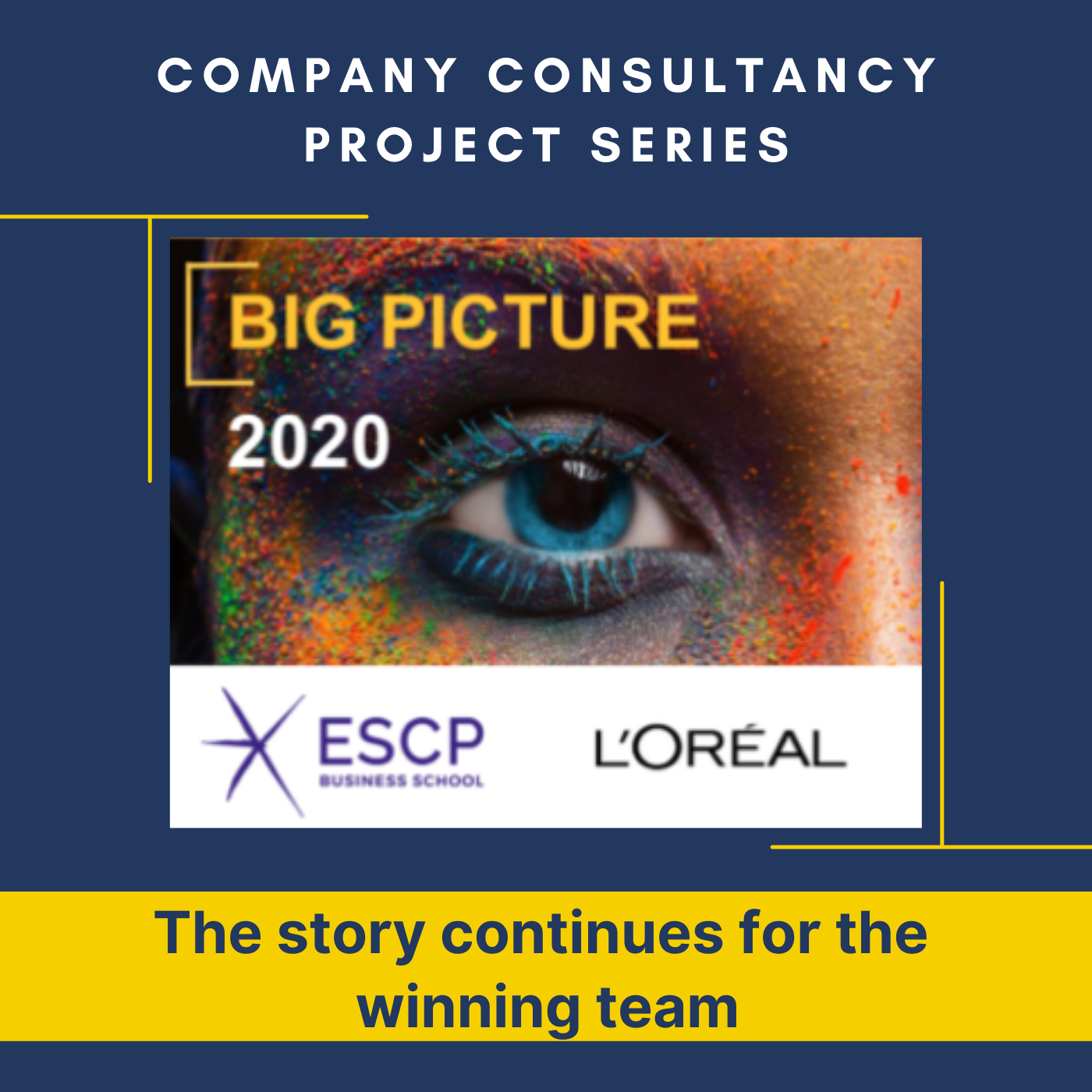 By  Bianca BOSATRA,  Eliav COHEN,  Louise DILLIES,  Miguel GASPAR,  Gabrielle OTTO, Elena SIMONI
— When a group of six ESCP students from the MSc in Marketing & Creativity and the MSc in Digital Transformation Management & Leadership were awarded first place in the week-long 2020 Big Picture Challenge, they were asked to continue working on the project with L'Oréal and their Digital Services Factory.
—
For an industry that encompasses cosmetics, perfume, hair, and skin care, having customers with more time to think and care for themselves could only be good news. Except when unpredictable events such as those experienced this past year limit access to the usual touchpoints where customers can discover and purchase beauty products. 
This year's Big Picture Challenge asked teams to design and produce a strategic recommendation based on a brief from L'Oréal's CDO, Lubomira Rochet: "Your vision for the online experience in 2025, with a particular focus on the role of services within L'Oréal's e-commerce ecosystem." 
We're beauty-enthusiasts ourselves: we love going into stores, browsing online reviews, scrolling through Instagram, and trying and recommending new products. So when L'Oréal announced the prize for this year's challenge would be different from past years, this time inviting us to work hand in hand with them, all six of us jumped at the opportunity.
With the first wave of COVID-19 in full swing, our team could not ignore the current climate; we felt it was important to take the brief further by thinking of how L'Oréal would need to adapt certain areas of their business in the coming months. Our proposed solution? We felt strongly that by 2025, L'Oréal's e-commerce would need to fully integrate the beauty advisors currently present in stores. Furthermore, the integration of human experts would give users access to real and credible advice. These recommendations were well received by members of the jury, who realised the value of the research especially during the pandemic. Not only did our team receive first place in the challenge, L'Oréal asked us to continue the research in Paris in the autumn.
Several months later and reunited in Paris, we not only met each other (some of us for the first time in person), we also met Seema Dwivedi, the Senior Product Manager at L'Oréal's Digital Services Factory, who would be our partner and point of contact within the organisation. With Seema and our project tutor, Prof. Marie Taillard, we formally reviewed our initial research and proposal and she presented the exciting project L'Oréal wanted to launch. 
Over the next 10 weeks, we would work together to synthesise the ideas and produce the final project. After several key introductions within the larger L'Oréal organisation, we prepared for launch with a timeline that encapsulated four parts: the exploration, define, ideate, and experimentation phases.
Design process
Step 1: Exploring & Identifying the Core Problem
For this project, we worked from both our previous and L'Oréal's own research. The goal was to synthesise both, to identify what could work, and to agree on features based on feasibility.

However, before beginning this work we needed to revisit our research and continue the exploration phase to really grasp the needs and pain points of our users.
Research #1: The Current Market & Users
a) Secondary Research
Before beginning any research of our own, we needed to review what we had done during the Big Picture Challenge, as well as the literature published during the summer months. Key takeaways and trends found from this part of our research were:
Skincare is gaining more prominence

Brand fatigue due to explosion of indie brands

Move towards small-scale influencers
b) Focus Groups & Survey
After the initial research, we set up a full day to hold two focus groups. In total we interviewed 12 people from four continents who (1) consider beauty important to their daily lives; (2) have participated in an online beauty experience; and (3) may have participated in another kind of online experience. The conversations covered the following topics:
What do beauty and wellness mean to you?

What are the top three things you would miss if stores were to close again?

Thinking of your online beauty experience, what were the best and worst parts?

If you could change one thing about the online beauty experience, what would it be?
Research #2: Beauty Advisors
In order to get an inside look into the ways beauty brands are currently adapting their businesses during the pandemic, we participated in online beauty consultations from four different brands and interviewed three different beauty advisors. The key takeaway from the consultations was that quality was very dependent on the level of knowledge and professionalism of the beauty advisor. As for the beauty advisors themselves, the biggest advantage they saw was the ability to connect with customers without any geographical constraint. Common pain points for both were the limitations of technology and personalisation.
Step 2: Define & Proposal
Once the research was complete, we could summarise gaps and pain points. As the recurring complaints revolved around the impersonal aspect that both users and beauty advisors feel when separated by software, we felt we had good material to begin identifying some solutions.
Step 3: Ideation of Solution
At this point of the project, we decided to bring in a 3rd party agency to help with the ideation process. It was exciting to work with experts in sketching our research into visual solutions.
Step 4: Experimentation & Testing
The work continued with the 3rd party agency at this step, with our team providing initial prototypes and the agency providing the finali clickable prototypes.
Pitch our idea, research, and prototype to the Digital Services Factory team and Marketing Prospective team of L'Oréal.
Conclusions
This project has helped us understand that beauty is a journey of ideas. The experience has been a thrilling ride alongside L'Oréal's creative digital marketers, agency UX designers, and strategists.  We saw our idea take shape and transform into a real service, going through all the phases, challenges, and emotions that made the last months of 2020 so exciting! And now we can't wait to see what the future holds for the launch of this digital platform to the market.