Breaking the e-commerce waste cycle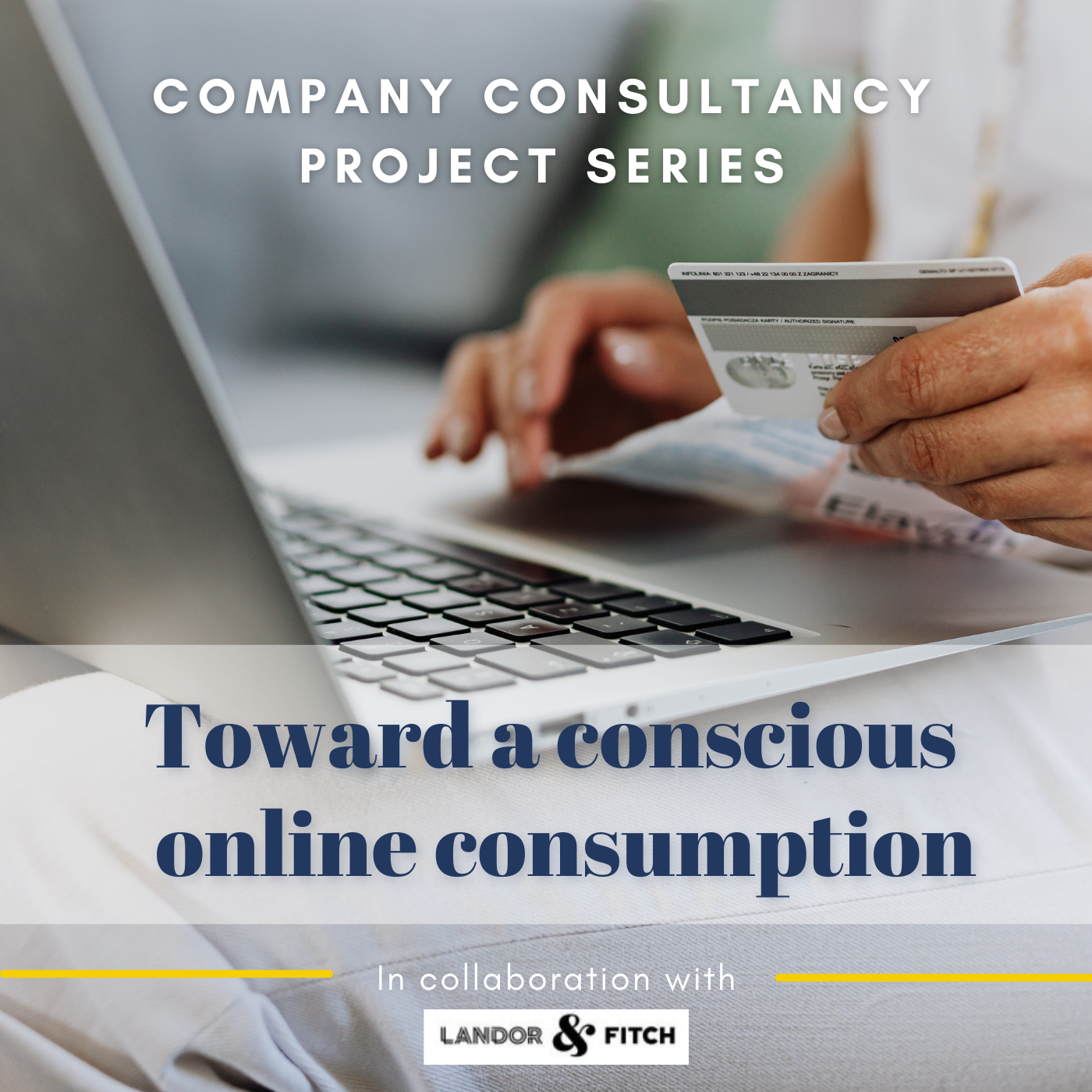 By FREGUJA Gabriele, GEROVASSILIOU Vasiliki, JAKUBOWICZ Aline, SERRADURA Nicole, STRAPASSON-PIN Allan
As part of our ESCP MSc in Marketing & Creativity (MMK), we all had to work for two months as consultants to a company. For each consultancy project, each team had a real problem that the client needed to solve, and we had to propose solutions by applying the methodology and frameworks learned throughout the MMK. In those two months we met the company three times, during kick-off, mid-term and final meetings, and presented weekly progress reports to our Tutor for guidance and advice.
Landor & FITCH is the largest specialist brand and design group in the world. They deliver extraordinary transformation for their clients, by design. Their teams of strategic experts design the future for brands by leveraging Landor's brand consulting strategic design capability and FITCH's experience design and retail consultancy. They have worked with clients that include Apple, Bang & Olufson, Barclays, BP, ESPN, FedEx, Huawei, Kellogg's, Kraft Heinz, Lego, Microsoft, Nike, Procter & Gamble, Sberbank, S&P and Squarespace to deliver brand-led growth.
Our team worked together to solve the problem proposed by Landor & FITCH, how to encourage conscious consumption online and break the e-commerce waste cycle by making it a sustainable ritual. By analysing the e-commerce cycle, our objective was to find a brand-led solution to encourage conscious consumption and sustainable logistics without compromising neither the consumer experience nor the company's profitability.
Industry and related challenges
E-commerce refers to the buying and selling of goods or services online, and the transfer of money and data to execute these transactions. In 2019, retail e-commerce sales worldwide amounted to over 3.5 trillion USD and are only projected to grow in the next few years. It is expected to become the largest retail channel globally in 2021 (Statista, 2020).

The growth of e-commerce can be attributed to convenience, something that strongly influences consumer decisions. The practicality of shopping without having to go to stores has helped many people to save time. More than 50% of consumers report spending more for the convenience of getting what they need (Statista, 2019). 
Another aspect related to convenience – and nowadays a standard for ecommerce players – is the ability for consumers to return items for free. Compared to traditional brick-and-mortar retail, which has a return rate of eight to 10 per cent, customers return 15 to 30 per cent of online purchases. Of these returns, less than 50 per cent are restocked and resold, resulting in e-commerce waste and environmentally unfriendly behaviour. 
Consequently, the environmental impact of e-commerce is growing; the current delivery/shipping system generates massive packaging waste. As online shopping continues to grow, so will the impact.
Part of our challenge was identifying a business model to build our solution upon. We chose the British-Portuguese online luxury fashion retail platform Farfetch. 
Farfetch sells clothing and accessories from over 700 boutiques and brands from around the world via their e-commerce marketplace. We chose this company for three main reasons:

We decided to work on a marketplace model because companies using these interact with multiple brands and shops, increasing the impact of sustainability improvements. 

Since clothing/shoes is the most popular online shopping category, it consequently has the highest returns as well as the highest pollution globally (McKinsey, 2016). 

The Luxury category has the highest expectation in terms of customer experience, and luxury and sustainability have a complex relationship that is worth exploring further (WWD, 2019) .
We analysed Farfetch competition and interviewed several management employees, through which we realized that Farfetch is active with regards to sustainability. Their projects were something we could build upon with our solutions to break the e-commerce waste cycle. 
By choosing this particular business model, we had to dig into the role of fashion in e-commerce. Buying clothes has a less obvious impact on the environment than taking an airplane or using disposable plastic. However, Fashion production makes up 10% of humanity's carbon emissions, and 20% of global water pollution. Consumers are also buying more clothes than ever before. On average, people bought 60% more garments in 2014 than they did in 2000, resulting in increased production and clothing being thrown away. According to the United Nations, the equivalent of one garbage truck full of clothes is burned or dumped in landfill every second. 
We then started our analysis in order to understand what type of customers we are taking into consideration and what are their pains and gains, in order to draw a detailed customer journey. 
The most interesting finding was that consumers across nations, generations and genders (especially Millennials) demand sustainability. But when it comes to purchasing, other criterias are of a higher priority; there is then a wide gap between what people desire and what they actually do.
With our solutions we wanted to maintain the convenience, limit the waste, and increase sustainability. So, we proposed many small solutions that will not interrupt the consumer but will maximise both the shopping experience and impact on the environment. We used the "10 types of innovation" framework in order to categorise each solution, especially concerning configuration (company internal processes and ways of doing things), the offering (what the company offers their clients), and the customer experience. Our solution brings value at many points of the customer journey, with the perspective of keeping high profits and maintaining consumer convenience while doing good for the environment. 
We believe that the Company Consultancy Project is the most powerful experience that we had during the MSc in Marketing & Creativity. Not only were we required to confront a real business problem, but we had also to learn how to approach the real world, treating our company representative as real clients and being hyper-professional at all times. Moreover, we had to adopt the perspective of the company, listening to their requirements and expectations, while using the frameworks and methodologies learnt during our MSc studies. 
This was an amazing experience that brought extra value to our programme.