Career spotlight: Karinna Nobbs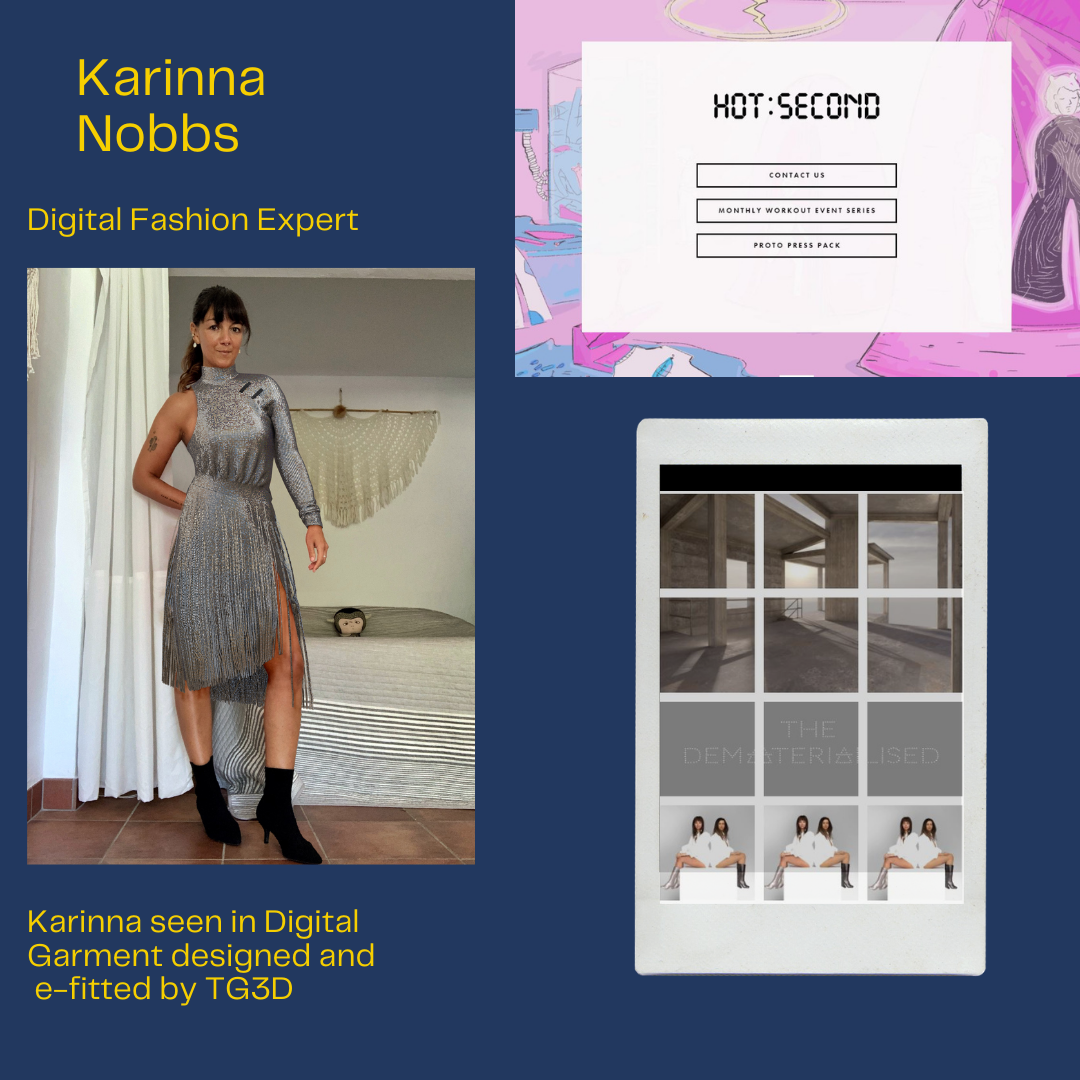 In today's career spotlight we had a discussion with Karinna Nobbs. Teacher, entrepreneur, and consultant, Karinna has many strings to her bow. Her name may sound familiar as she is an Affiliate Professor in Marketing at ESCP London Campus, and she also teaches on the Fashion & Luxury Specialisation of the MSc in Marketing & Creativity. For this interview, we asked her to put on her expert attire to guide us through her path and share her thoughts on the future of fashion retail. 
Can you briefly introduce yourself? 
I'm Karinna, originally from Edinburgh, Scotland. I used to live in London, but now I'm based in Ibiza. I describe myself as a founder, an educator and a nowist. I used to call myself a futurist, but because of the current challenging environment I feel it's more important to concentrate on how we can move forward in the short – rather than the longer – term. 
I have two digital fashion businesses, teach in various different institutions around the world, and undertake marketing strategy consultancy – mostly with fashion technology companies.
You really cover your field of expertise in many different ways, and by having different roles, too. How did you diversify so much? 
Originally, I wanted to be a criminal psychologist. I started a degree in psychology and realised it wasn't the dark stuff that I liked; instead, I was really inspired by consumer psychology. I changed my bachelor degree to one in business retail and I found how much I enjoyed trying to understand the psychology and sociology around why people purchase things, and more specifically around how they interact with fashion.
Then I realised I wanted to specialise further, so I did a master in international fashion marketing. At that point, I was working in visual merchandising as a freelancer for different brands, and I did my master thesis on how to achieve differentiation through design particularly of stores. My thesis supervisor asked me if I ever thought about teaching, and I thought that I needed more life experience before thinking of this. She insisted that I already had that experience as I worked all the way through my undergraduate and postgraduate degrees, and that I should give it a try. I followed her advice and found that I really enjoyed it and started teaching at just 22, in a range of subject areas. I worked as a full-time academic for 11 years, where I really immersed myself in consumer behaviour, marketing, retail, and more.
At some point I started to feel frustrated by academia. I had worked in a few different institutions and I just felt that the pace of industry wasn't reflected so much in the institutions for whom I was working. Five years ago I started researching and specialising how fashion brands were adopting digital marketing, big data, ecommerce, etc. and I decided to quit my safe and secure full-time career to set myself up as a consultant. 
I created my website, talked about it to everyone I knew, and rapidly identified a niche for agencies and brands who had a really good point of differentiation but didn't have an in-house marketing person. They already had an amazing story to tell, all I had to do was to figure out how to tell it. I worked with very various companies, including an emerging technology company called Holition as their Head of Strategy & Marketing four days a week, as well as other projects. The role was intense, and after four years I was close to burnout. I quit all my jobs, took six months off and travelled around the world to find out what I wanted to do next. During that time, I decided to create a digital fashion business. That was last year, and I have just launched a second.
Can you tell us more about the businesses you're running at the moment? 
I'm kind of obsessed with vintage clothing and the conscious consumption movement. I saw Marie Kondo live at SXSW one year, and I'm interested in understanding why more consumers are doing purchase boycotts of fashion and similar actions against consumption. I initially thought I wanted to open up a vintage store that worked on a consignment basis, kind of like eBay but physical. It's something already really established in America but there's nobody in the UK, and in London in particular. This idea didn't work out because of the high amount of capital needed to start up, something I did not have.
I was also very inspired by some of the pioneers in digital fashion like The Fabricant, and I thought why don't I flip this on its head and ask people to submit or donate a physical garment they don't want anymore in exchange for a digital fashion experience – perhaps their first ever digital fashion experience – all happening in a physical store. So in November 2019 I created concept store HOT:SECOND, ostensibly the world's first physical store trading digital fashion experiences.
Effectively it was a research generation exercise, and I suppose a kind of go-to market strategy. I have since decided to turn that company into a social enterprise: education is fundamentally one of my main values, as is the progression of technology and alternative ways of seeking growth. 
Regarding my second business, last year I was in Paris at a circularity conference where I met my current co-founder. She and her husband founded a blockchain company called LUKSO, which specialises making blockchain tech accessible for the creative industries. We talked a lot and both believe that blockchain could be the key to making digital fashion move from niche to mainstream. So we started a new business together called the dematerialised. As a major trend within our economy and our lives, we see the dematerialisation of many things and we believe that clothes and fashion are part of that movement, so we're launching this venture in December 2020. 
So the COVID-19 crisis has been more a catalyser or a break for you, business-wise? 
It's a mixture of both. It's been negative for physical activations and retailers. For HOT:SECOND I had physical activations planned in Tokyo, and one planned in London with a major department store. Both projects had to be postponed to next year. 
On the plus side, both consumers and professionals in the industry have really woken up to understand more of the potential of digital fashion because we're even more living so much of our lives through squares and rectangles via our digital devices. 
And given this growing trend, how do you picture the future of fashion retail? 
In the short term a lot of businesses who were not particularly financially stable aren't going to survive. We already see fewer and fewer players on a weekly basis, that's really sad. However, it also offers up opportunity in terms of different ways of doing things. We see a lot of streamlining, so there are definitely going to be far fewer physical stores, and I think that these physical stores will have to invest in two major aspects: safety in the short term, and digital on a longer run, because more than ever retailers will have to give consumers a reason to visit a store. Unless you really deeply hate e-commerce people are now used to it. The figures are double digit growth for e-commerce for clothing, so it speaks for itself. 
Something else that is also super exciting are new mediums. Whether things like social shopping and VR, or new startups where you can shop e-commerce pages together with your friends, which I think is super interesting. AR specifically will become a critical part of our decision-making process, especially if we can't get to stores to inspect clothes. Finally, e-commerce will have to become more experiential. We don't necessarily have the answers to how it's going to look, but more and more people are experimenting in that area and that's good!