How to Master the Magical Art of Communication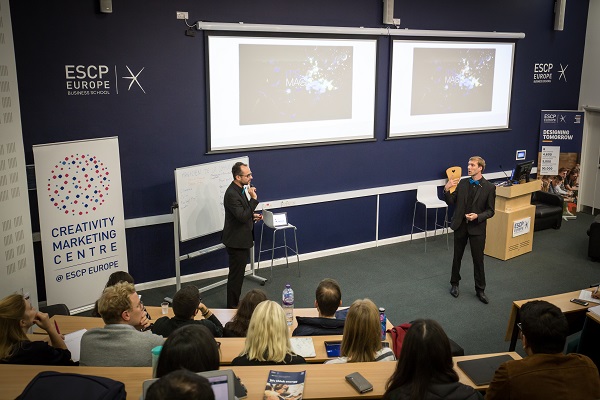 Today's business leaders must be able to conceive, demonstrate, organise and deliver innovative ideas. Communication is a crucial tool through which they succeed in this process. Poorly communicated business ideas, even when fundamentally sound, often fail to engage with their audiences. 
"Communication is a complex process: It is an individual and collective effort in identifying and transferring meanings, and we need to find creative ways to make sure those meanings are accurately shared with our audiences," said Dr Kamran Razmdoost, Interim Co-Director of the MSc in Marketing & Creativity.
As part of our Creativity Marketing Seminar Series, ESCP Business School and its Creativity Marketing Centre hosted an event entitled 'Put a Magic Spell on Your Communications' with Speakers Jeremie Zimmermann and Adrien Moulard, Co-Founders of Magicien de la Communication.
The event took place on 16th October at ESCP Business School's London Campus, bringing together alumni members and students from the Bachelor in Management, MBA in International Management, MSc in Energy Management, and Master in Management.
The importance of effective communication in the business world
Effective communication makes a significant impact on business efficiency: It can inspire others to act, encourage smooth processes, encourage new ways of thinking, build strong partnerships, and help business representatives have a profound effect on their audience.
As a matter of fact, communication is everywhere! Regardless of role, industry or career stage, strong communication skills are a key requirement today. The ability to clearly set directions, information and messages in a way that others can understand and follow is essential to managing a business and team running smoothly.
And we keep communicating all the time: "When we are not communicating with others, we are communicating with our own self. This is why it is so paramount to understand communication better," said Jeremie Zimmermann, Co-Founder of Magicien de la Communication and an ESCP Business School Alumnus of the Master in European Business programme, now the MBA in International Management.
The importance of better dealing with one's inner communication
Because people rarely know how their inner communication works, we are often subject to it – and emotions can lead us astray! This impacts how we behave and communicate with others.
"To enjoy a boost in efficiency and achieve better results, both personally and collectively, people need to regain control over their inner processes, how thoughts, emotions, behaviours and feelings interact with one another in loops. Business leaders need to mitigate cognitive bias, destructive thinking and boost creativity," said Adrien Moulard.
He also added that, "To accomplish this, it is crucial to understand how our brain interprets reality, and give our brains the right messages."
How to improve one's communication
Most learnings (including communicating) go through four steps:
After making a conscious effort to acquire the skill (level 3), magic happens and our brain makes it automatic (think of writing, driving, etc.). Becoming unconsciously competent allows us to save energy for other tasks (thinking while driving, for instance). But when we have levelled off, we are on automatic pilot and do not improve anymore. This is why it is so hard to change habits.
Hence, to enhance our communication, we need to go one step down by becoming "consciously competent" again and allow ourselves to make mistakes. To make this process happen, you need to change the way you do things and learn differently. It will automatise the process and update it to your skill set.
The magic communicator
Beyond the tricks, magic is all about understanding and using the processes of psychology, suggestion, and how to direct and manage your audience. This is why there is so much to transfer to business challenges.
Learning how to communicate as a magician – to read people well, direct attention, find the right words in the right time – allows you to surprise your audience, create a magic moment and have the greatest impact possible.
Jeremie explained how, through effective communication, a top representative in the banking industry was able to deal better with her stress, understanding the mechanisms beyond her thoughts and emotions, and upgrade them.
The mechanisms:
Regain control: Achieve your personal power through the understanding of inner processes.
Focus on the goal: Use your creativity, imagination and project yourself in the future and how it may look – it will tell your brain where to go.
In a word, maximise the efficiency of your internal communication to expand your external one.
To demonstrate how powerful strong connections are, Jeremie encouraged some members of the audience to participate on a couple of magic tricks, allowing attendees to see the impact of communication on the participants and others.
Communication: The road to happiness
"Happiness is closely linked to the quality of our relations in both professional and personal environments. It is essential that we master the art of becoming better communicators by acknowledging that we are in the process of getting something with people, rather than getting something out of people," said Jeremie.
"We see communication as a dancing art: It is all about adapting to the other gracefully," said Adrien. This can be achieved by reinforcing three core skills, both within inner and interpersonal communications:
"Communicating better and creatively with yourself and others is essential to succeed in both professional and personal contexts," added Jeremie.
Interested in becoming a marketing expert who understands how to implement creativity and deal with the challenges that may come from business practice? Check out how ESCP Business School's MSc in Marketing and Creativity – Ranked #6 Master in Marketing in the World by QS – will equip you with the tools you'll need!
You can also join us  on Tuesday, 27 November at5:00pm (UK time) for your chance to learn more about the programme curriculum, our unique philosophy, what projects students work on, what are the key skills & competencies they get, employability opportunities, progression statistics and more.
To register, please click here.
Useful links:
About ESCP Business School
About Magicien de la communication